WELCOME
Mogck & Sons now has the 4th generation actively involved on our farm and ranch. My grandfather, Adolph, started raising Angus cattle 88 years ago as Mogck Angus. From there, my dad Duane, started Mogck & Sons Angus which my wife, LeAndra, and myself continue to run along with our children Christy, Chase and Ty. Mogck & Sons Angus is a family run operation with Christy doing the book keeping and registrations of the cattle and also working at Custom Genetic Solution. Her husband, Logan, has been helping at Mogck & Sons full time for two years. Chase, a graduate from SDSU in 2021, is back home full time and Ty is currently on his second year at SDSU and helps throughout the year.
Currently, Mogck & Sons calves around 300-350 cows and 100 heifers. Our annual bull sale is the 3rd Thursday in February where we sell 110 registered bulls and 40 registered bred cows. We also purchase some of our customers calves back to finish in different custom feedlots. Data is collected on these feeder calves to help us in our genetic decisions for superior cattle from birth to the consumer's plate.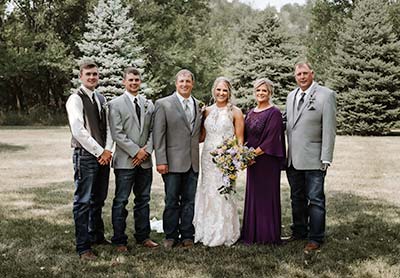 Our goal is simply to raise cattle that make our customers profitable. To do that, we believe in calving ease that doesn't sacrifice growth. Our calves need to be efficient in the feedlot and have superior carcass traits. Along with that, we need a cow that is sound with all the maternal traits the Angus breed is known for. Mogck & Sons continues to be a leader in technology using ultrasound, whole herd genomic testing, cow herd enrollment in Maternal Plus and collecting feedlot/carcass data.
Thanks!
Charles Mogck
Mogck & Sons Angus
CHECK US OUT ON FACEBOOK