WELCOME
Mogck & Sons Angus of Olivet is a family run business that started raising Angus cattle 83 years ago with my grandfather Adolph Mogck. From there, Adolph's sons Oliver Mogck (Mogck Angus) and my dad Duane Mogck (Mogck & Sons) continued selling bulls private treaty. The 1st production sale was held 35 years ago in 1984. Today, my wife LeAndra, daughter Christy and two boys Chase and Ty, calve over 300 registered Angus cows along with 100 registered Angus replacement heifers. Currently, we market 110 bulls and 30 bred heifers/cows on our annual sale in February.
The farm is very diverse with corn, beans, wheat and alfalfa. The pastures in the area are mainly creek pasture that feed into the James River. This area is ideal for raising cattle from start to finish with both roughage and corn being abundant.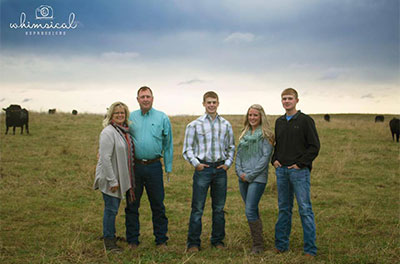 Finishing cattle has always been part of our farm's operation with cattle now be finished at custom lots. We enjoy purchasing feeder calves from our bull customers. This gives us a helpful insight on how their calves are doing from start to finish. Carcass data is also collected on cull calves from our own herd as well as calves from cows that we have on share. We believe in using all the new technology available to improve our herd and operation. All bulls and heifers are genetically 50K tested to improve the accuracy of their EPD's.
We look forward to continually providing cattle that fit our customers' needs. Our yard is always open.
Thanks!
Charles Mogck
Mogck & Sons Angus
CHECK US OUT ON FACEBOOK